The 5th St. Louis International Indian Dance Festival - 2013
St. Louis, Mo. April 19th - 21st
Clayton High School Auditorium
"Dazzling costumes, impeccable footwork, creative movements, eternal story lines…."said the spell bound audience in April 2012.
We say "Here we come again" in 2013, bright & promising as ever with 22 dance performances, in 9 ethnic dance styles over three spectacular days, nights of April 2013.
We welcome you all 5th St. Louis Indian Dance Festival.
5th St. Louis Indian Dance Festival brings alive the classical dance forms such as Bharathanatyam, Kathak, Odissi, Manipuri, Kuchipudi, Mohini Attam, Sastriya, Yakshagana and Contemporary Bharathanatyam. Dancers arrive from different corners of the world such as India, France, United Kingdom, and many cities of USA. This dance festival is a reflection of freedom of expression given to all its citizens. T provides a great opportunity for the second-generation Indian Americans.
Come and enjoy the beautiful "Mudras" (Hand gestures)
Come and enjoy beautiful "Sthanaka" (Positions)
Come and enjoy the great unification of "Tala" (rhythm) with the feet…
Come and enjoy the Nava Rasas ( sentiments) flowing through the emotive mind status of a dancer…
The only one original representation of true Indian dancing….
It is an ultimate artistic experience of no parallel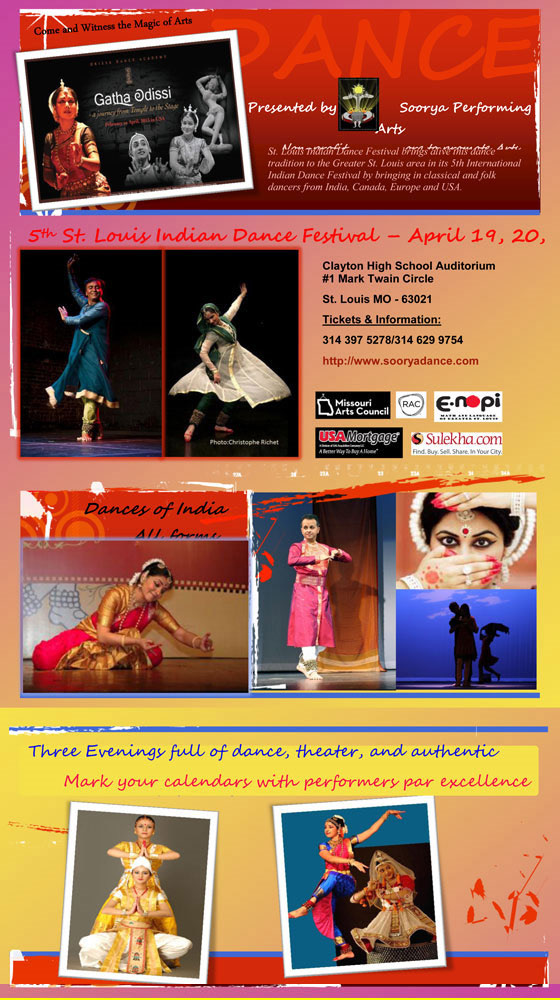 The 5th St. Louis International Indian Dance Festival - 2013
Friday Evening - April 19, 2013 - 6:15 PM
6:15 PM
Lighting of Lamp & Invocation
By Students of
Soorya Performing Arts
St. Louis, MO USA
6:30 PM
Solo Kuchipudi
Guru Sailaja pullela
Detroit, MI USA
7:20 PM
Solo Bharathanatyam
Shalini Subbarao
St. Louis, MO USA
8:00 PM
Announcements &
Dinner Break
Dinner Break
8:30 PM
Yakshagana & Bharathanatyam
Guru Mangala Anand &
Rajendra Kedlaya
9:20-10:30 PM
Grand Odissi Dance
Orissa Dance Academy
Saturday Morning Session - April 20, 2013 - 10:30 AM
10:15 AM
Solo Kuchipudi
Neha Kidambi
11:05 AM
Solo Bharathanatyam
Krishnan,
Smriti Bharadwaj
11:55 PM
Solo Bharathanatyam
Joshua Cherian
12:45-1:30 PM
Solo Bharathanatyam
Anisha Gururaj
Saturday Afternoon Session - April 20, 2013 - 4:00 PM
4:15 PM
Sattriya dance
Madhusmita Bora
5:05 PM
Manipuri
Krishnakali Dasgupta
6:00 PM
Coffee Break
Coffee Break
6:15 PM
Solo Bharathanatyam
Prakruti Hoskere
7:00 PM
Solo Kathak
Sharmila Sharma
7:45 PM
Announcements and
Dinner Break
Break
8:15-9:30 PM
Trunamapi Na Chalati
Guru Prasanna Kasthuri
Sunday Morning Session - April 21, 2013 - 10:30 AM
10:15 AM
Solo Bharathanatyam
Annuja Mathivanan
11:05 AM
Solo Bharathanatyam
Sowmya Kumaran
11:55 AM
Solo Kuchipudi
Manasvini Avvari
12:45 PM
Solo Bharathanatyam
Ma Bavya
Sunday Afternoon Session - April 21, 2013 - 3:00 PM
3:00 PM
Solo Kathak
Sunaina Rao
3:45 PM
Group Bharathanatyam
Kripa Baskaran
4:45 PM
Coffee Break
Coffee Break
5:00 PM
Group Bharathanatyam
Sahasra Sambamoorthi
6:00 PM
Kathak Duet
Guru Prashanth Shah
6:45 PM
Break
Dinner Break
7:20-8:30 PM
Mohini Attam Group
Guru Smitha Rajan